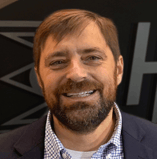 By: Allen Mills, President


HyFlex CM71 Continuous Mixer and 321EHP high pressure hydraulic pumps are more than powerful productivity tools. They are also important safety promoters for construction regulations and OSHA requirements for the fireproofing industry. These factors have added key jobsite checkpoints that can't be ignored. We saw this first hand at recent site visits.

First Stop: San Francisco - The Raymond Group
On a trip to visit customer jobsites in our western region I stopped to visit The Raymond Group in San Francisco to discuss site requirements with Fireproofing Foreman, Paul Somers.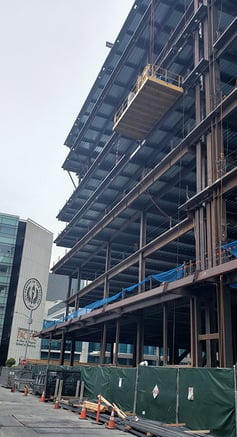 Project and Equipment Details
To keep up with a fast paced downtown high rise construction, The Raymond Group recently purchased a pair of 321E HP pumps and CM71 continuous mixers. They are spraying Isolatek International Cafco 300HS for this San Francisco project. Our West Coast Sales Rep and I were happy to visit the site and do project startup and training with their crew.
Several team members had used the equipment before at other sites, but this was their first time using the CM71 with its dust suppression hood.
Why Dust Suppression is Important on the Jobsite
Dust suppression has become a very popular topic for several reasons with the primary reason being silica compliance, and while gypsum-based fireproofing has only small trace amounts of silica it has brought increased awareness of the topic of dust control. We began working with our CM71 dust containment hood several years ago and it was immediately clear that dust containment on the CM71 was an effective solution to the dust problem.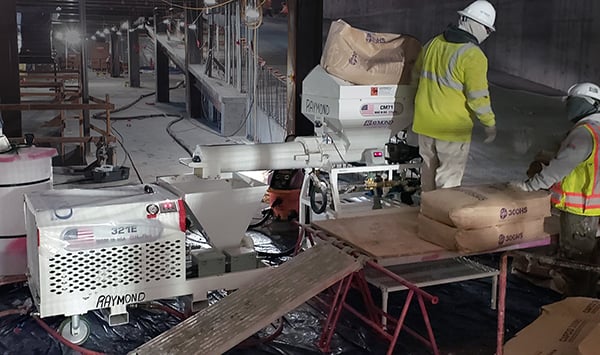 Paul was really pleased at how easy it was to connect one of their dust vacs to the mixer and contain nearly all the dust related to dumping the bag and mixing. As you can see in the video clip below, the dust is greatly reduced making the job site cleaner and safer for the fireproofers and other trades as well.
Next Stop: Denver - Rolling Plains Construction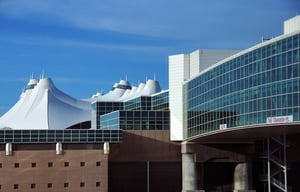 After saying good-bye to Paul and the Raymond Group crew, I took a flight to Denver to visit Jake Morton, Safety Manager at Rolling Plains Construction. They also were setting up a 321E HP and a CM71 continuous mixer to spray CGP's MONOKOTE® MK-6/HY. Their job was at the expansive Denver Airport that is currently undergoing a major expansion and remodeling.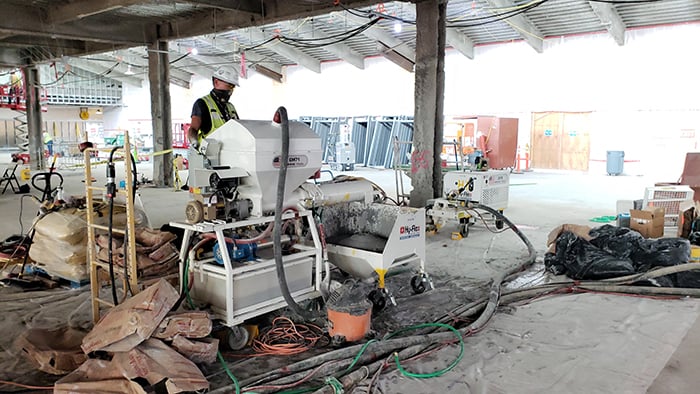 Why Noise Factors are Important on the Jobsite
Rolling Plains had chosen the all-electric setup because they would be fireproofing in the active airport terminal building, requiring a minimal amount of noise. Their mixer was produced prior to the dust suppression hood option. I shared a video of the dust suppression hood in action and Jake felt strongly they needed to add this to their setup to help mitigate the dust produced when dumping bags into the mixer.
After getting the dust suppression hood on site we had a great day of spraying. DIA Project managers were happy with quiet dust free operation that this setup produced. Outside the temporary walls there were families seated enjoying a few minutes off of their feet and unaware of the industrial operation just steps away. Turn up the sound on the video below to experience the low noise production and dust-free operation produced by the CM71 dust suppression hood.
Reducing Operator Fatigue and Risk of Injury -
Fireproofing Equipment Ergonomics
Ergonomics are another great feature of the CM71. Both mixer operators commented on how much easier their job was than using traditional mortar mixers. No tub to dump over to empty the mixer helps reduce operator fatigue and potential back and shoulder injuries. Hydraulic dump mixers do eliminate operator fatigue, but take additional time to dump and clean and are not nearly as easy to use as the simple start and stop buttons on the CM71.
I wanted to share with you these two great examples of how the 321E and CM71 are providing more than impressive production numbers. Safety is part of their DNA and can keep your job site productive, quiet, and dust free by design.
Want to learn how this technology can improve your projects? Contact one of our knowledgeable sales reps to see how you can see one in action for yourself.
-Allen