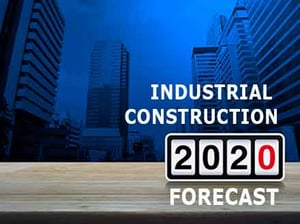 It's been a great three-quarters of a decade for the industrial construction sector and by proxy the fireproofing industry.

The entire United States economy has been in the middle of its longest expansion in history and when the economy is strong, building infrastructure becomes a priority. Construction industry professionals reported in 2019 that they were optimistic about industry expansion for the eighth year in a row, according to a Wells Fargo Construction Industry Forecast survey.

Typically, the United States market (the second-largest construction market in the world, just behind China) is considered a reliable measurement for the state of the worldwide construction market in its entirety.

Going into 2020, forecasts for the construction industry as a whole remain optimistic. The United States construction market is expected to grow by 1.7 percent in 2020. According to Richard Branch, chief economist at Dodge Data & Analytics, "there will still be lots of opportunity for growth" in certain areas. For example, on the commercial side of building, education and healthcare construction are projected to increase by 2% and 3%.
FMI Principal Jay Bowman states, "There's still a lot of good in the industry and broader economy that suggests we could continue a path of decent growth over the next several years. I cannot think of a contractor that I've spoken within the past six months that has expressed any concern about project backlog."

Things are optimistic for the industrial sector specifically, especially for buildings made out of steel. The steel market is expected to see a 0.6% growth in 2020 and a new total demand of 1.81 million tonnes, according to the World Steel Association.

Furthermore, industrial real-estate demand is expected to rise by 850 million square feet, reaching 1.8 billion square feet by 2023, thanks in large part to the growth in e-commerce sales.

The American Institute of Architecture's Consensus Construction Forecast predicts non-residential construction growth of around 2.4 percent in 2020. The forecast was broken down into the following eight categories:
Public safety, 5.9 percent growth
Education, 4.4 percent growth
Health, 3.7 percent growth
Office, 2.2 percent growth
Amusement and recreation, 1.0 percent growth
Hotels, 0.5 percent growth
Retail and other commercial, 0.8 percent growth
Religious, 2.8 percent contraction
Like any industry, there is always the potential for a slip in growth to occur in the industrial construction sector, but experts like Branch continue to be positive when it comes to that potential in 2020. According to Branch, the level of activity will remain as high as it's been for the last three years, squelching any worries that the construction industry will take a backslide in the coming year.

Many factors need to be considered when predicting the overall health of the industry before taking anyone's forecast to the bank. But there are things you can do to make sure your team overcomes any unforeseen storms that may lie ahead.
To make sure you are prepared and successful in 2020, make sure you consider:
Skilled Labor Shortages: Baby Boomers are retiring and Millenials aren't entering the workforce with the same skill level, or at the same pace or enthusiasm for skilled labor positions. It's now more important than ever to keep your best people. You can do this by making sure you're offering competitive wages and winning enough work bids to keep them busy.
Interest Rates: Material and labor costs aren't the only thing on the rise. But, again, being knowledgeable of costs to improve estimates will also help the amount of money you're paying interest on by getting the estimated number even closer to the actual number.
Material Costs: Profit margins continue to be top of mind due to the rising cost of materials and labor. However, being knowledgeable when it comes to cost and keeping your eye on the budget will help you better understand how much a job costs and how much to bid to be more accurate and have higher profit margins.
Equipment and Technology: Taking old technology and outdated equipment to the job site can increase project time and pose a risk of equipment failure. Making a smart investment in equipment appropriately sized and specced for your projects, can be an effective way to save on material costs, reduce labor time, and in turn increase profits and labor availability.
//

JOBSITE EFFICIENCY TIP:
Many contractors don't consider these key factors for jobsite efficiency:
Cleanout time: fewer cleanouts means saving both material and time
Time related to moving equipment while on the job
The 321E series of pumps help reduce the number of cleanouts in two ways.
The 321E is capable of delivering your full production rate up to 1000 feet or more while competitors have to stop cleanup and move the equipment multiple times to achieve the same thing. This reduces the number of unnecessary cleanouts and the amount of material being pumped into the dumpster (not to mention all the extra labor to perform those moves and cleanouts).
The 321E series can pump extremely long distances and heights without a reduction in output, more bags will be applied during the day which increases the number of bags pumped to the number used in cleanup.
While 2019 was a solid year for the economy as a whole, the industrial construction industry specifically benefited from that solid ground. The industry saw measurable growth in the last year, and projections show that 2020 will not be the year that growth stops.

For more information HyFlex products, please contact us or explore how our fireproofing products can help your business.