By: Chad Swisher, Sales Manager
Amidst the shutdowns and regulations surrounding Covid-19, the closing of schools, cancellations of major events, and even the full suspension of the NBA and other professional leagues, things in the construction world have slowed as well. Industrial jobs are getting delayed and postponed until this pandemic is under control.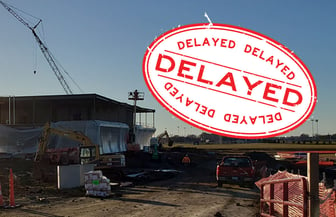 I have had multiple conversations this week with a common theme of people redirecting and pulling resources from whole cities as they're being shut down. I have seen posts of people unable to file for permits needed as municipal buildings are limiting who can enter. With borders closing, many industrial companies are finding delays on equipment and contractor availability. But fear not, as we are resilient as a country and have come back from far worse.

When the time comes that we can resume business as usual, we need to be prepared to take on not just the work we have delayed, but also the new jobs we have already committed to. We as a workforce will be overwhelmed and under stress to get these jobs completed and deadlines met.

But for now, there is going to be some downtime on our hands, which is OK, as the rest of the world is experiencing this as well. We need to find ways to best utilize this unique time and prepare for when things get back to normal.

Take this time now to prepare for the rebound, which will inevitably happen. Be sure you have everything you need in place. Be ready. Now is a great time to set yourself up for success and propel yourself and your business to the next level.
So what is your strategy to prepare for rebound success?
What are the steps you're taking while our industry is paused? Here are some ideas to consider during this downtime:

1. Make a list of the resources you need to have in place when work-as-usual resumes.
Will you have the right people in place?
What tools and equipment will you need to get everything completed in the shorter work-year left for 2020?
What other resources will you need to jump back in at full force?
2. Take the opportunity to focus in on skills and company improvements.

What are some of the internal projects that have always escaped completion due to lack of time?
Are there skill-gaps on your team? Do you have safety training to complete?
What other team or process improvements have been shelved during busy season?
3. Make a plan to nurture industry relationships, commit to reaching out every day.

Have you checked in personally with your best clients and prospects?
How can you deepen those relationships?
4. Take time to support your community and focus on family.
What can you do to help your local community?
Are you making time to connect and communicate with those you love?
5. Take time for health and nutrition. Being at full-strength is always important, and will be essential when we are all back to the office and jobsites.
Our commitment to help you
The team here at HyFlex is doing everything possible to help our customers get ready for the work ahead.
Our commitment to you includes:
Offering an amazing advanced order "rebound" offer for your upcoming opportunities
Building and stocking additional equipment for quick turnaround
Preparing to increase equipment rental options
Keeping our team available for 1x1 conversations with you to hear your specific needs. You can reach us by:

Continuing our commitment to producing new innovative products to hit the ground running when this crisis resolves
The pumping and coatings world will rebound and the jobs are going to have tighter deadlines. We're 100% committed to helping reach those deadlines and making our industry and country strong again.
If you are interested in learning more about our offers and what we are doing to help out the construction world then check out the link here or reach out to me or anyone on the HyFlex team to discuss your specific needs and situation.

Thanks for taking the time to read some of my thoughts around what we are experiencing. If you want to share your experiences, you can reach me here or connect with me on LinkedIn.
- Chad