How to Select the Right Pump for Your Fireproofing Business [HyFlex Buyer's Guide]
Ready to purchase a new pump for your fireproofing business?
If you're buying a fireproofing pump for the first time, upgrading pumps that haven't kept up with technology, or adding to your fireproofing equipment inventory to take on more and different types of jobs, HyFlex offers a wide range of innovative pump solutions for your needs. Our dedication to continually improve fireproofing pump engineering and technology delivers dramatic increases in operating efficiencies and lower costs for our customers.
In this guide we answer your questions and share innovations to help you select the right HyFlex pump at the right price point for your fireproofing business:
Fill out this form to get the FREE eBook!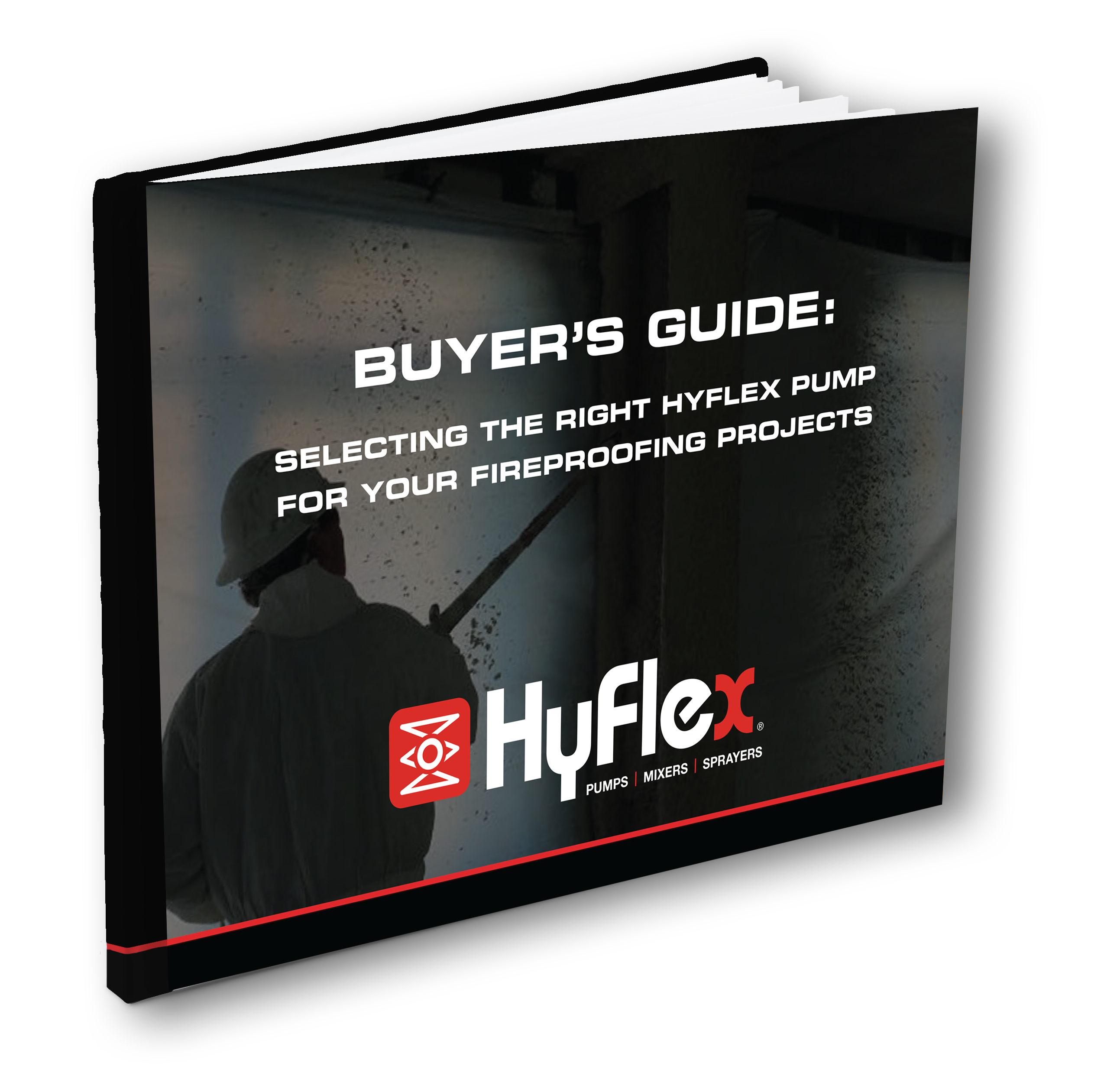 Determining the Right HyFlex Pump Size for a Fireproofing Job
There's not a "one size fits all" pump for fireproofing, so it's important to know and discuss your scope of work and expectations with a qualified HyFlex Sales Representative before making a purchase. Our current line of pumps for fireproofing range from the highly portable Spray Buddy to the large and powerful 321 High Pressure.
A pump that's too small for the job means low productivity and efficiency. A pump that's oversized means you've overspent and lowered your profits and ROI. Also, right-sizing a pump means you've right-sized the accessories you'll need.
A typical discussion a HyFlex Sales Representative will have with a customer is built upon an understanding of the project at hand, especially in terms of size and bags of fireproofing material that must be applied, and your expectations and needs for productivity, expressed in bags/hour.

How Distance and Height Specs for a Fireproofing Job Affect Selection of the Right HyFlex Pump
Prior to making a purchase, the distance and height specifications for a fireproofing job is going to be the most critical piece of the discussion you'll have with your HyFlex Sales Representative. In addition to how high and how far materials need to be pumped, considerations for pump technology, productivity requirements to meet bid specs, ease of use, and types of materials required for the job are going to be key to making a smart purchase decision.
We generally advise our customers that even though more powerful pumps cost more, they pay for themselves in terms of productivity. For example, constantly re-positioning and resetting equipment because it's not powerful enough for the height and distance needed for a job is a waste of time, money and resources that can be avoided with the selection of the right pump.

Matching Your Fireproofing Materials with the Right HyFlex Pump
We're often asked if our line of HyFlex pumps can handle all the different types of commercial and industrial fireproofing material on the market today.
The answer is "YES", but with a qualification: certain high-density materials will require a powerful pump like our 30E model because of their consistency and thickness. Low and medium density materials can be used with any of our pump models without issues or concerns.
A discussion about the types of materials you currently use and those you might use in the future as you bid on different types of opportunities will help ensure the pump you select will reliably and consistently deliver the materials you'll be using on the job.
Your HyFlex Sales Representative will answer your questions about the types of materials you currently use and those you might use in the future as you bid on different types of opportunities. We'll make sure the pump you select will reliably and consistently deliver the materials you'll be using on the job.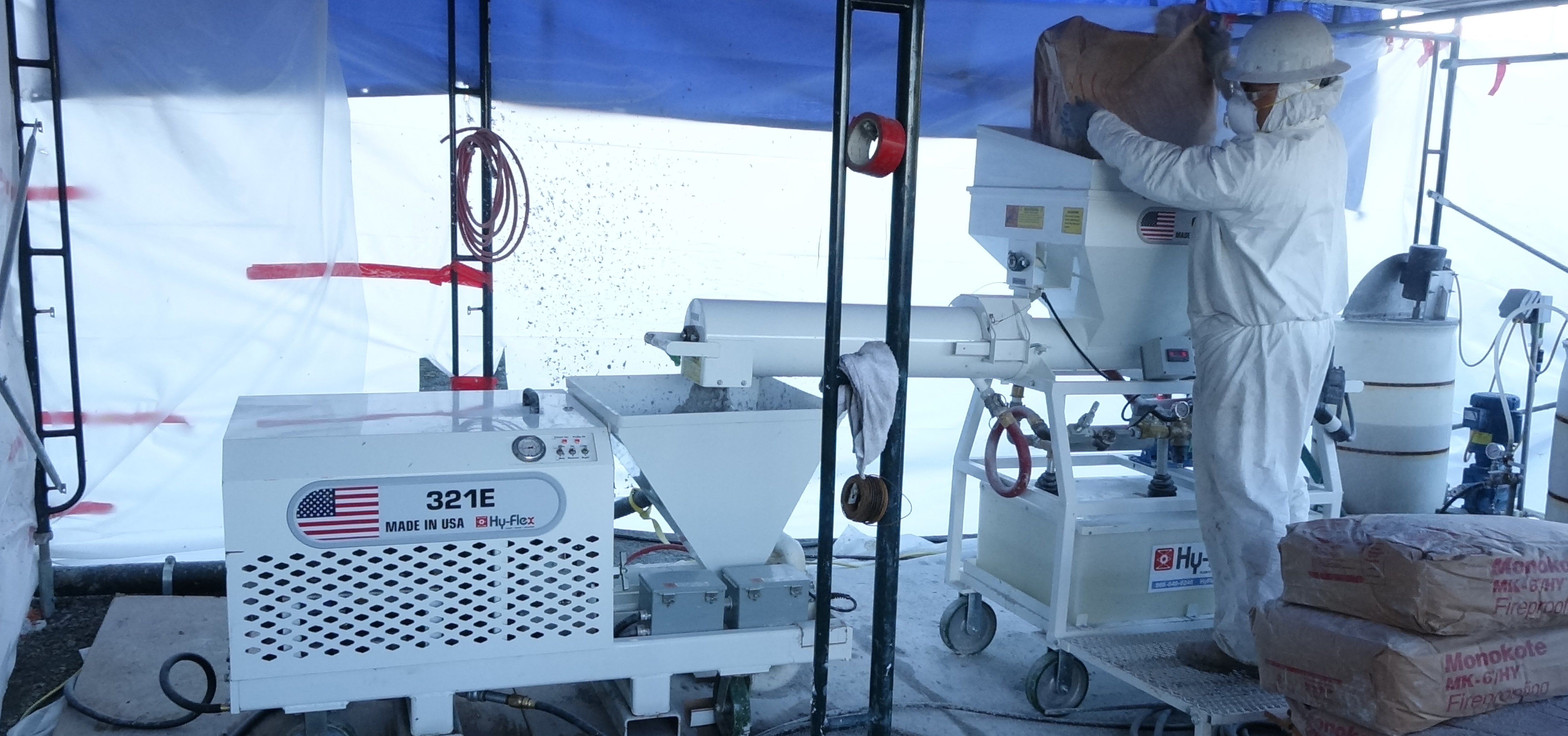 Determining the Right Power Requirements for a HyFlex Pump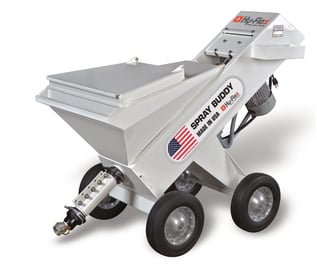 Power requirements for the different HyFlex pumps we sell is one of the most frequently asked questions to our team at HyFlex. It's an important consideration when it comes to calculating upfront and continuing operational costs.
HyFlex pumps are typically able to work with an existing onsite power supply, but in some circumstances, particularly where a fireproofing job is for a tall, multistory building, a fireproofing contractor may want to purchase or rent a generator in order to move equipment and materials closer to the application site in order to get the job done efficiently and cost-effectively.
This topic should be a discussion you'll want to have with your representative at HyFlex along with the seller or manufacturer of the generator. Information about the HyFlex pump you have under consideration that will be necessary for selecting and right-sizing a generator includes voltage, full load amps, single or three phase for each motor running off of the generator, and power requirements for all accessories like fans, lights, and water pumps.

Differences in HyFlex Model Production Rates for Fireproofing Applications
When it comes to selecting the right HyFlex pump for your fireproofing business, you'll want to consider the differences in production rates between the different model pumps we offer. Materials to be used, height and distance requirements and operating costs of the pump will be a part of these discussions.
Production rates affect job efficiency, which in turn impact your bid and ultimately, job profits. Accounting for future business opportunities as well as any job in hand will help in the selection process. Our team of Sales Representatives are here to help you in your selection process.
Also, be sure that if you are doing a comparison of pumps among different manufacturers that the production rates cited in their specs are for actual fireproofing materials while spraying, not just for water in a laboratory setting. By doing so, you'll get a true "apples to apples" comparison that will enable you to make the best decision possible.


HyFlex Pump and Parts Inventory: Our Shipping Promise
HyFlex stocks a complete inventory of accessories parts and supplies, from hoses to adapters to cam locks, as well as complete pump packages.
Because you can purchase direct, we can promise a 24-hour turnaround and delivery for many of our products. That means less downtime and more profitability.
Get more details from your HyFlex Sales Representative by calling 866-849-6246.
We welcome an opportunity to discuss your fireproofing business, and the needs you have for reliable, competitively priced pumps and accessories on your current or future job opportunities. Connect with us at 866-849-6246 or by completing and submitting a Request for Quote, today.