CM71
Continuous Mixer
Exclusively designed and certified for low to medium density cementitious fireproofing material.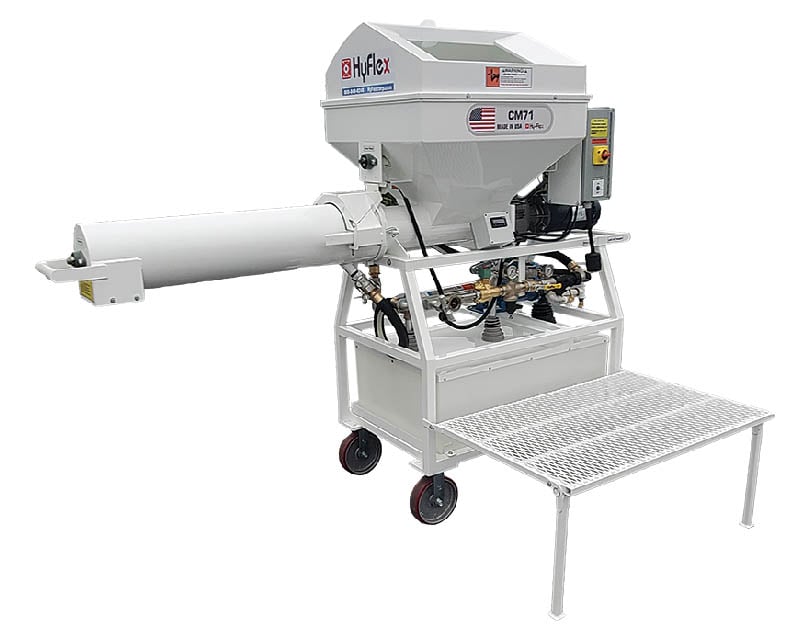 Overview

Specifications

Benefits

Applications
Automation at the mixer…
The CM71 continuous mixer was exclusively designed and certified for low to medium density cementitious fireproofing material. The CM71 produces a continuous supply of material with unmatched consistency of output day in and day out. Are you looking for an overall better quality output, higher job production, all while eliminating associated mix issues?
Power
1-1/2 HP 208-230V 1750 RPM
(3 HP 230V 3450 RPM, three phase, 50 Hz, 380V available on request)
Speed Control

Fixed-speed motor

Mixer Output

Varies with paddle configuration, 30-60 bags/hour, low-density fireproofing

Mix Tube

40 in lg x 8 in ID

Charge Height

54 in from 12 in work platform

Booster Pump

13 gpm @ 40 psi

Water Inlet

3/4 female garden hose / 3/4 FPT

Water Tank Capacity

40 gallon

Float

40 psi 20 gpm, 100 psi maximum

Height

65 in without bag grate, 73 in with bag grate

Width

28 in with platform folded, 54 in with platform down

Length

48 in without mix tube, 92 in with mix tube

Weight

693 lbs

Hopper Capacity

3 bags

Power Requirement

1-1/2 HP 208-230V 22 FLA, 3 HP 230V 18FLA

Wheels

2 - 8 in rigid x 2 - 8 in swivel caster urethane over steel

Mix Paddle (HMP-high density, LMP-low density)

Low density contains 72 uni directional mix paddles, High density contains 72 multi-directional mix paddles

Powder Auger (PA) Options

3 in, 3-1/2 in, 4 in

High-Speed Configuration

Dual Density: 3 in PA, HMP, 3 hp 3450 RPM, can be used for high and low density (recommended for Cafco 300/400)

Low-Speed Configuration

High Density: 3 in PA, HMP, 1-1/2 hp 1725 RPM, high density only (approx 45 bags/hr) Low Density, Low Output: 3 in PA, LMP, 1-1/2 hp 1725 RPM (low density only - approx 30 bags/hr) Low Density, High Output: 4 in PA, LMP. 1-1/2 hp 1725 RPM (low density only - approx 60 bags/hr)

Recommended Pumping Distance**
150 ft
Air Output
12 cfm @ 40 psi (90 psi max) onboard Chinook compressor
Standard Features
Electric start, rubber isolated engine mounts, reversible
Trailer Features
4 prong flat plug, submersible LED rear lights, 2 in ball receiver, independent torsion axles, jack w/caster
Available Options
Truck Mount (TM), Gas Engine (G), Diesel Engine (D) Adjustable Stator Tool Box Mount
PA=Powder Auger, LMP=Low Density Mix Paddle, HMP=High Density Mix Paddle
Copyright 2020 HyFlex Corporation. All information contained within this document is based on the latest information available at the time of publication.
HyFlex reserves the right to make changes at any time without notice.
No variation in mixing or density from water fluctuation or mix time
Water delivery system removes pressure and flow fluctuations from systems that connect directly to the source
Auger and paddle combinations produce the correct output and density for different applications
Mix tube safety prevents accidental injuries when removing the tube for cleaning
Totally enclosed tank keeps water clean and the pump protected
Digital water meter has programmable units and displays flow rate and total dispensed
Onboard tank float keeps tank full
Expanded metal work platform gives good slip protection and keeps the mess away from the operator's feet
Fits through a 36 inch doorway
8 inch polyurethane casters allow smooth, easy transport
Large inventory of parts! Orders placed by noon will be shipped out the same day
Low/Medium Density Fireproofing


CM71 Features
The CM71 continuous mixer is specifically designed for fireproofing. It features a large capacity mix tube for proper mixing time and consistent densities. The mix tube features a safety device, water booster pump, pressure regulator, on/off valve, digital flow sensor, mixer auger and mixing paddle configurations for your specific needs, and much more. Watch the video for more details.