ALUM CART
Alum injection systems
The HyFlex ALX series of alum injection systems are available as single-barrel and double-barrel options.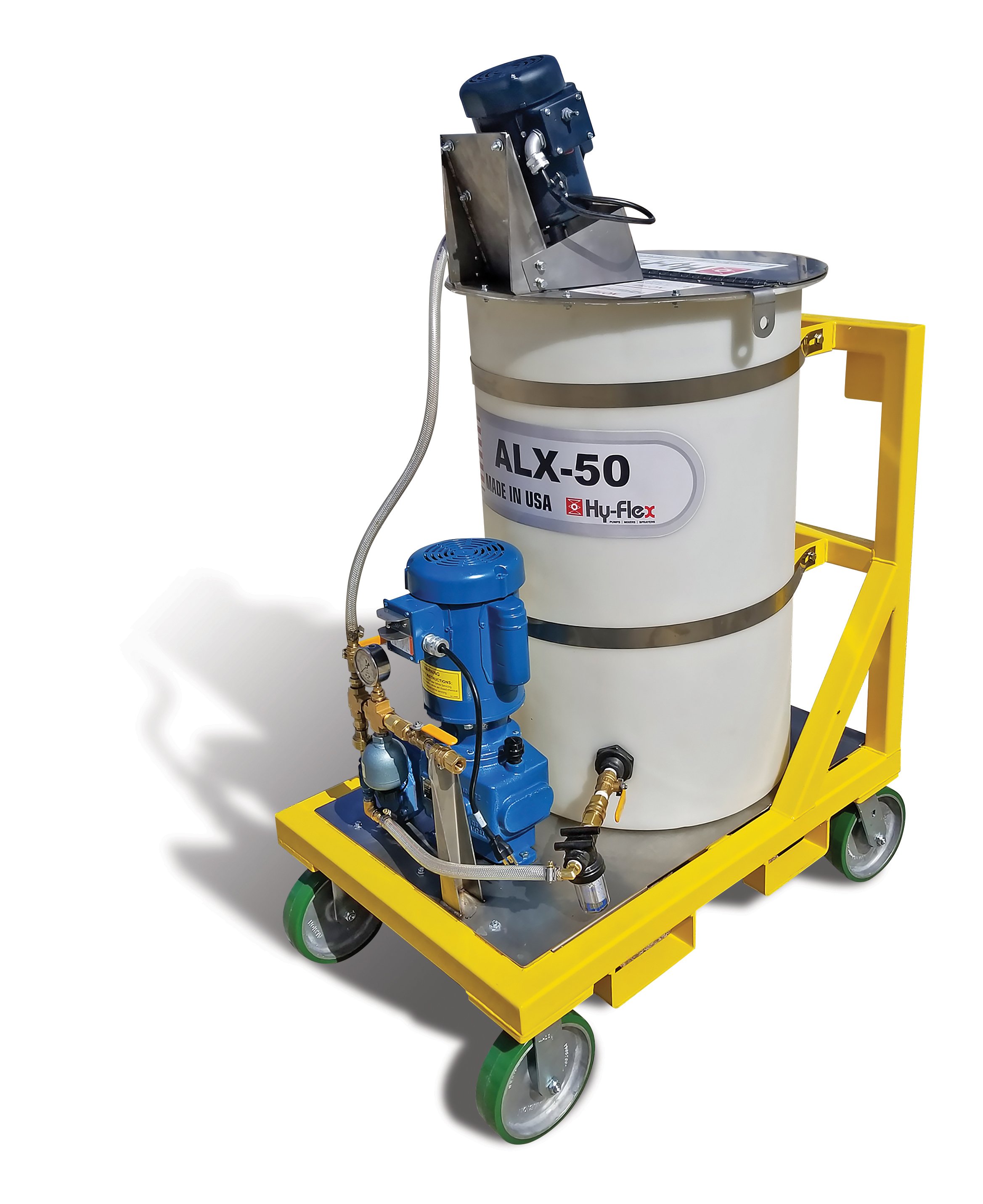 Overview

Specifications

Benefits

Applications
The all new HyFlex ALX series of alum injection systems
The all new ALX alum injection system was made out of an identified need in the fireproofing industry. The ALX cart was designed with fireproofing contractors in mind. From its robust steel frame to its reliable and dependable Neptune pump, this is the alum injection system for the job. Every tank is fitted with a stainless top that will hold up to any job that can be thrown at it. For more information reach out to Hy-Flex today!
Available Models
ALX50 – Single Barrel Single Pump
ALX100 – Double Barrel Single Pump
ALX100T – Double Barrel Double Pump
| | |
| --- | --- |
| Mixer Power | 115V single phase, 1/2 hp 8 FLA, mixer motor |
| Power Pump | 115V single phase, 3/4 hp 11.8 FLA, Neptune pump motor |
| Mixing Tank Capacity | 55 gallons |
| Maximum Operating Pressure | 600 psi 55 gallons |
| Weights | 350 lbs |
| Pump Size | 27 in wide x 30 in long x 65 in tall |
| Pump Output | 34 gallons per hour |
| Pulse Dampener | Nitrogen-filled 200 psi set |
Specifications subject to change without notice
Copyright 2018 Hy-Flex Corporation. All information contained within this document is based on the latest information available at the time of publication.
Hy-Flex reserves the right to make changes at any time without notice.
Zinc rich primer/polyester powder coat – Alum resistant coating prolongs life of product.
On/Off switch guards –Prevents unnecessary damage of switches.
3/4 hp Neptune pump –Reliable and dependable alum pump.
Stainless steel tub straps –Increases overall stability of cart.
Heavy-duty stainless steel welded motor mount –Rigged mount that firmly secures mixing motor.
8 inch poly over metal hub casters – Very portable and rolls easily.
Forklift pockets – Prevents tip over when transporting on site.
Ratchet strap mounts for mixer lid – Accessible tie down point for when transporting equipment.
Low/Medium/High-Density Fireproofing