30G
Rotor Stator Pump
The perfect gas-powered pump for spraying Fireproofing, Stucco, EIFS and more.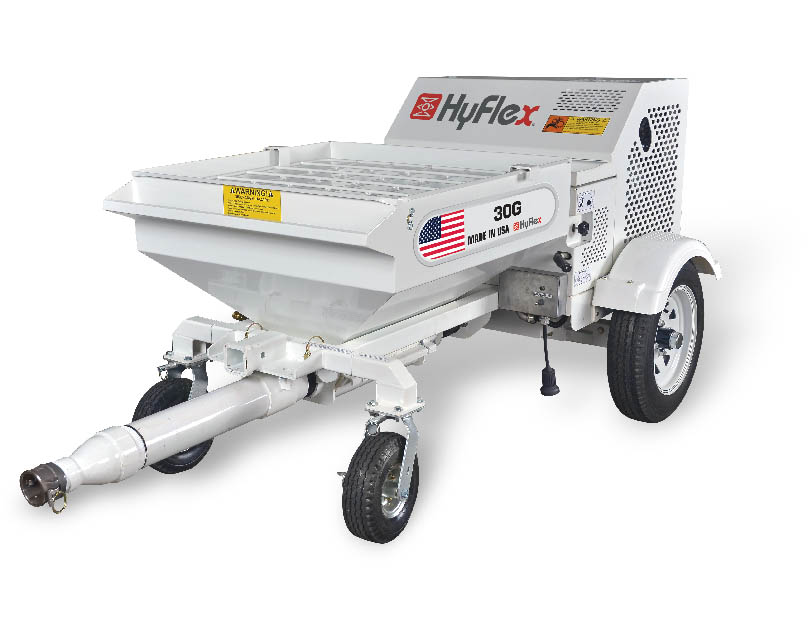 Overview

Specifications

Benefits

Applications
The perfect gas-powered pump for spraying Fireproofing/Stucco/EIFS. Proven performance and reliability, this pump is a triple threat -Towable Axle, narrow Axle and Truck Mounted. The compressor is standard. Call today about the 30G.
Power

Briggs & Stratton

®

Vanguard 400 (408cc)

Fuel Tank
1.5 Gallon Gas Tank
Speed Control
Dial-a-Speed hydraulic speed control
Controls
Mechanical and Electric hydraulic controls
Pump Output
8.5 gpm or 23 bags per hour
Pump Size
Optimized 2L6 rotor and stator
Pump Hopper Capacity
60 gal/3 bags
Pump Charge Height
32"
Pressure Output
350 psi max recommended working pressure
Directional Control
Forward and reverse
Remote Control
2 wire 125' On/Off remote standard (can be extended up to 500 ft total)
Overall Dimensions
Wide Axle 48" W x 84" L x 42" H, Narrow Axle 35" W x 84" L x 42" H, (width 33" without grate)
Weight
Wide Axle 585 lbs, Narrow Axle 530 lbs
Heels - Towable
Rear 20.5 X 4.80 X 12, Front 10" swivel caster
Wheels - Narrow
Rear 15 X 4.80 X 8, Front 10" swivel caster
Drive
Hydraulic variable speed
Pump Outlet
2" camlock standard
Max Aggregate Size*
1/8"
Recommended Pump Distancing
200'
Air Output
12 cfm @ 40 psi (90 psi max) onboard Chinook compressor
✝ 1 bag = 3.0 cu ft yield
* High output model recommended for use with products that pump more easily where higher output is desired. Low-density fireproofing and self-leveling underlayments would be good choices.
** High torque model recommended for use with hard-to-pump products or extreme pumping distances or heights. Mortars and stuccos would fit this category.
*** This is maximum largest aggregate size recommended for pump. Mix design will determine how effectively the product will pump.
**** Pumping distance and output may be increased or decreased significantly depending on mix design, but we believe these to be very achievable in most instances.
Copyright 2020 HyFlex Corporation. All information contained within this document is based on the latest information available at the time of publication.
HyFlex reserves the right to make changes at any time without notice.
Low maintenance seal design — long-lasting and cost-effective
Easy access to engine and hydraulics for quick daily maintenance
Manual and electric controls give you variability in your command
Electric start
Backward (reverse) dumping mixer allows cleanup while pumping
The work platform keeps your feet dry and makes it easy to load the mixer
Variable speed pump and mixer speed
Can easily be towed with an ATV or UTV to remote locations — doesn't require a heavy-duty truck to transport
2L6 rotor-stator gives an exceptional performance with difficult materials
All switches and relays sealed in a watertight control box for reliability
Low/Medium/High-Density Fireproofing
Waterproofing
Plaster/Stucco Spraying
Injection Work
Manhole Restoration
Concrete Repair Mortar
Cellular Concrete
Bridge Repair
Self-Leveling Floor Underlayment
Slab Jacking
Cementitious Coatings Under 1/8 inch Aggregate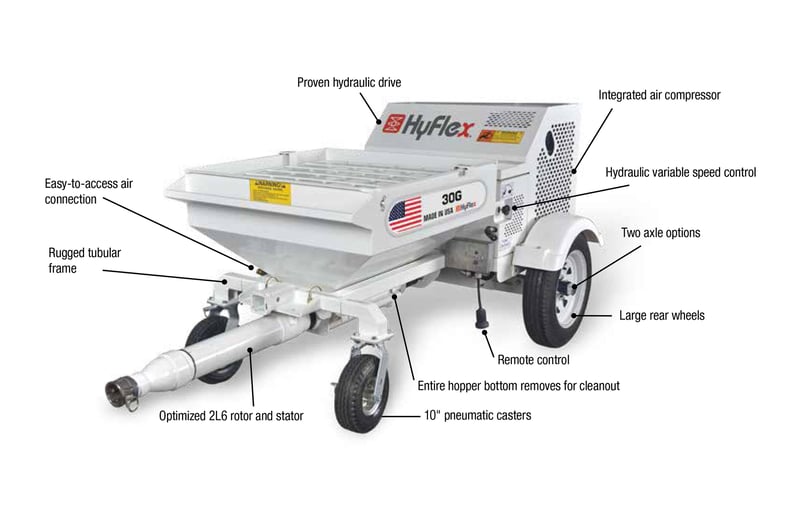 30G In Action
Our 30G keeps your crew pumping commercial coatings across industries including stucco, plaster, fireproofing, wastewater, infrastructure repair, EIFS and more.
Watch this short video and see 30G on a 117,000 sq ft lath and plaster project with Clayton Dupree from Diversified Plastering and hear about his experience with the 30G pump and HyFlex equipment.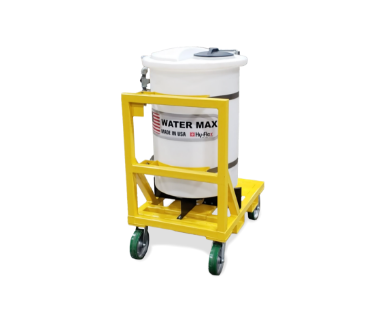 WaterMax
Perfect for:
Improving product performance for fireproofing, stucco, and other bagged products by accurately delivering water to your specifications.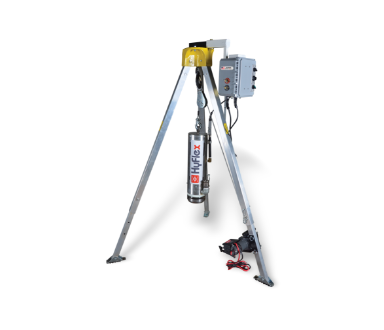 Slinger
Perfect for:
R
ehabilitating wastewater structures like manholes and septic tank rehabilitation.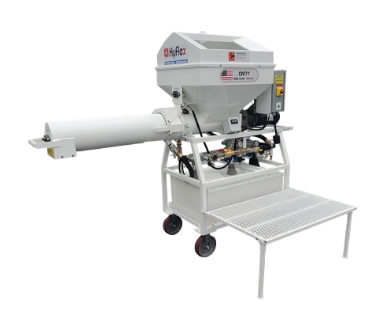 CM71
Perfect for:
L
ow to medium density cementitious fireproofing material. The CM71 produces a continuous supply of material with unmatched consistency of output day in and day out.