Spray Buddy
Patch Pump
Unsurpassed production for industrial patching applications - in a small package.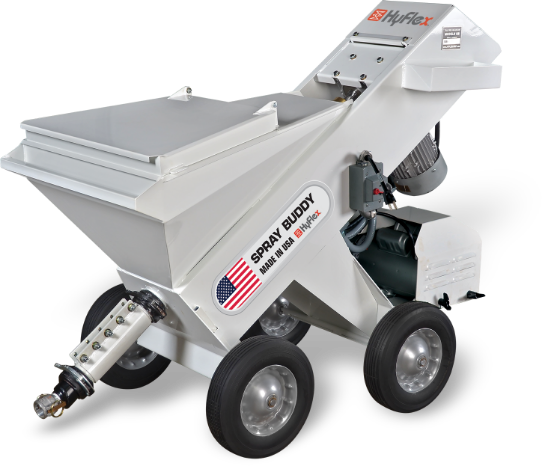 Overview

Specifications

Benefits

Applications
Patch pump - the Spray Buddy pumps an unlimited amount of different materials…
Silent, compact and simple to operate patch pump used for many industrial applications. Unsurpassed production in a small package. Proven performance stands out over time, based on reliability and portability. If a cementitious material can be pumped, start with the Spray Buddy. Stop hand applying, this pump will make money in a variety of ways – inquire about the patch pump today.
Power
1 hp electric inverter drive
(Patch Pump*/Spray Buddy**: Std)
Speed Control
Dial-a-Speed electronic speed control
(Patch Pump/Spray Buddy: Std)
Pump Output
Variable
(Patch Pump: 0-2.6 gpm or 8 bags/hr/Spray Buddy: 0-1.75 gpm)
Pump Size
Optimized 2L3 rotor & stator
(Patch Pump/Spray Buddy: Std)
Pump Hopper Capacity
15 gal or 2/3 bags✝
(Patch Pump/Spray Buddy: Std)
Pump Charge Height
32 in
(Patch Pump/Spray Buddy: Std)
Pressure Output
250 psi max recommended working pressure
(Patch Pump/Spray Buddy: Std)
Directional Control
Forward and reverse
(Patch Pump/Spray Buddy: Std)
Remote Control Opt.
2-wire remote can be extended up to 500 ft
(Patch Pump/Spray Buddy: 2 wire 60 ft - 18 m lg)
Width

26 in

Length

54 in

Height

41 in

Weight

190 lbs without compressor 285 lbs with compressor

Power Requirement
60 HZ 110 V 15 A one phase
GFCI Tested
Wheels

12 in dia semi solid

Drive

Direct drive lube for life gearbox

Pump Outlet

1 in camlock standard

Max Aggregate Size ***

1/8 in

Max Pumping Distance

Patch Pump: 100 ft/Spray Buddy: 150 ft
✝ 1 bag = 3.0 cu ft yield
* Patch Pump model recommended for use with products that pump more easily and in which a higher output is desired. Low-density fireproofing and self-leveling underlayments would be good choices.
** Spray Buddy model recommended for use with hard-to-pump products or extreme pumping distances or heights. It also utilizes an AFS Auto Reverse that reduces nozzle packs significantly with sandy and aggregated materials. EIFS and waterproofing coatings would fit this category.
*** This is maximum aggregate size recommended for pump. Mix design will determine how well product will pump.
**** Pumping distance may be increased or decreased significantly depending on mix design, but we believe these to be very achievable in most instances.
Copyright 2020 HyFlex Corporation. All information contained within this document is based on the latest information available at the time of publication.
HyFlex reserves the right to make changes at any time without notice.
No daily maintenance other than cleaning and ZERO material waste as a result of hopper design.
2L3 Adjustable stator, 1hp- 115V 15amp AC motor w/High torque on start –

Only 5K generator.
Gear box & Vertical drive have no seals – reliable.
Easy speed dial 0-10, and only 4 easily changeable wear components –

This pump just runs.
AC motor shuts off when LOW Voltage is sensed – Preventing motor burnout from poor power.
Toggle switch controls are easy to use and field repairable –

Unlike expensive membrane/touch pad.
Standard remote 2-Wire up to 500′, plus the industry best HyFlex water resistant on/off switch.
Portable at job sites, easily fits in pickup and uses 12″ no flat wheels for easy maneuvering.
Patented AFS – Spray Buddy has Auto Reverse Feature reduces Pack outs from sand aggregates.

When material and air valves are shut off, Spray Buddy automatically reverses, removing line pressure build up, preventing most pack outs and startup material blasts at the gun head.
Low/Medium/High-Density Fireproofing

Industrial Fireproofing
Patching Fireproofing

Waterproofing
Texture Painting
Tuck Pointing
Scratch/Brown coat
Plaster/Stucco Spraying
3D Concrete Printing
Injection Work
Manhole Restoration
Concrete Repair Mortar
Cellular Concrete
Bridge Repair
Self-Leveling Floor Underlayment
Slab Jacking
Cementitious Coatings Under 1/8 inch Aggregate
Recommended Products
These products pair perfectly with the Spray Buddy for these reasons, add some SEO value here by mentioning specific equipment + uses.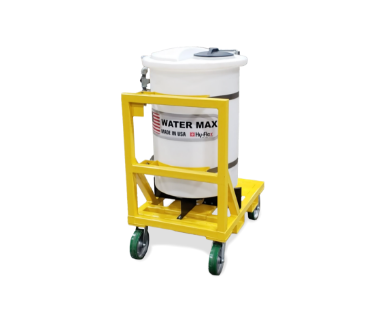 WaterMax
Perfect for:
Improving product performance for fireproofing, stucco, and other bagged products by accurately delivering water to your specifications.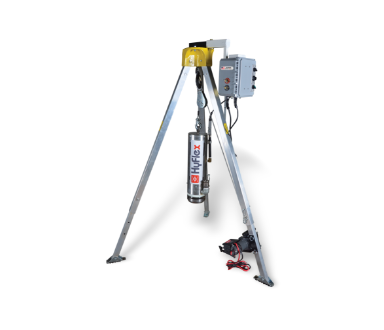 Slinger
Perfect for:
R
ehabilitating wastewater structures like manholes and septic tank rehabilitation.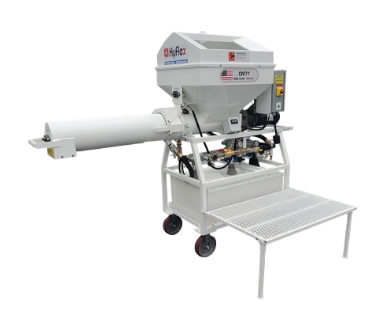 CM71
Perfect for:
L
ow to medium density cementitious fireproofing material. The CM71 produces a continuous supply of material with unmatched consistency of output day in and day out.