321E
High Production Fireproofing Pump
Three models designed for the specific requirements of your fireproofing projects.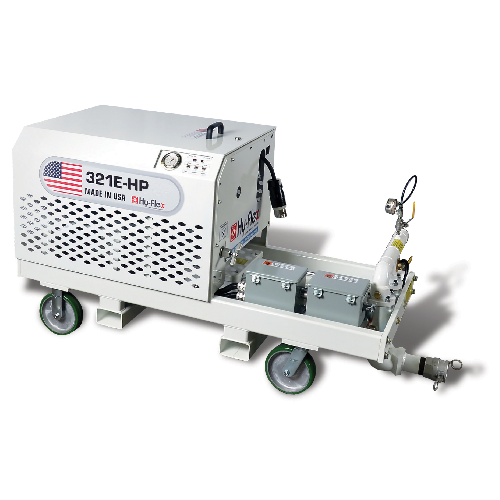 Overview

Specifications

Benefits

Applications
"Smallest" High production fireproofing pump in the world!
Ideal for contractors who require high volume output. HyFlex pumps are built to keep your crews up and running on every jobsite to protect your ROI. Unique, state-of-the-art, three models offered — 600psi, 800psi and 1,500psi line pressure units. Can pump greater than 50 floors with up to 1,000 ft. of hose. The cost to operate every 15,000 bags and pump safety associated with the 321E models are unmatched. The most durable and money-making pump you can own. Time tested to consistently run without issue at job sites. Inquire and start saving today.
321E - 7.5SP (SINGLE PHASE)
321E STANDARD
321E HP (HIGH PRESSURE)
POWER
7.5 hp electric motor
15 hp electric motor
SPEED CONTROL
Dial-a-Speed hydraulic speed control
PUMP SIZE
3 in x 20 in dual hydraulic piston
PUMP HOPPER CAPACITY
Standard 3.6 cu ft, floor hopper 13.5 cu ft
PUMP CHARGE HEIGHT
Standard 3.6 cu ft 40," floor hopper 20"
PUMP OUTPUT
Variable 0-15 gpm or 35+ bags per hour
Variable 0-23 gpm or 60 bags per hour
Variable 0-15 gpm or 40 bags per hour
PRESSURE OUTPUT***
600 psi at full flow/800 psi max with pressure and horsepower control
900 psi recommended max working/adjustable pressure control
1,500 psi recommended max working/adjustable pressure control
MAX AGGREGATE SIZE*
.188"
.188"
.188"
MAX PUMPING DISTANCE*
500'+
600'+
900'+
COOLING
Air-cooled heat exchanger
Water-jacketed heat exchanger
REMOTE CONTROL
2 wire On/Off
WIDTH
28"
HEIGHT
34"
LENGTH
62"
WEIGHT
925 lbs bare machine, +80 lbs 3.6 cu ft hopper, +175 lbs 13.5 cu ft floor hopper
1,270 lbs bare machine, +80 lbs 3.6 cu ft hopper, +175 lbs 13.5 cu ft floor hopper
POWER REQUIREMENT
60 HZ 208/240 V 38/33 FLA single Ø
50/60 HZ 190/208/240 V 44/39/37 FLA 3Ø
NEMA PLUG CONFIGURATION
50A 1Ø 250V
50A 3Ø 250V, 50A 3Ø 480V
PLUG CONFIGURATION
50A 250VAC 1Ph Non-NEMA
50A 250VAC 3Ph Non-NEMA
50A 250VAC 3Ph Non-NEMA
OPTIONAL HIGH VOLTAGE
none
50/60 HZ 380/460V 22/18.5 FLA 3Ø
WHEELS
2 - 8" rigid x 2 - 8" swivel caster urethane over steel
HYDRAULIC DRIVE
Pressure compensated hydraulic drive with horsepower control
Pressure compensated hydraulic drive
PUMP OUTLET
2" NPT pipe
AIR OUTPUT
N/A
12 cfm @ 40 psi (90 psi max) onboard compressor
OPTIONS*
Compressor attachment
High voltage input
2" heavy duty or victaulic pump outlet
Floor hopper or vertical
download the product sheet here.
Smallest high production fireproofing footprint on planet earth –

Portable, fits in short bed pickup.
15 or 7.5hp Leeson electric motor – Silent and requires zero maintenance.
30 (up to 60) bags per hour, 250 bags per shift depending on vertical/material & applicator.
Pressure safety control – If back pressure exceeds pumps set point, it stops –

Versus blowing hose/gasket.
Hose length from 10 to 1,000′, no manifold back pressure required –

Save not using 3″ surge hoses.
2″ outlet uses 2″ NPT/Camlock hose, optional 3″ outlet for existing standpipe.
Daily operator maintenance is filling Lube oil box with any type oil for piston cup lubrication.

Less than 1qt of oil.
A Hydraulic Piston design has far less repairs than a mechanical piston pump.

Repair savings.
321E Does not use these fail items –

Expense to repair Bearings, Bushings, Pulleys, Gear box, Transmission or Clutches.
Spray volume easily changes without stopping pump, turn dial up or down. –

Higher productivity.
Toggle switch controls are easy to use and field repair –

Unlike expensive membrane/touchpad.
Low/Medium/High-Density Fireproofing
321 In Action
Our fireproofing pumps and mixers get the job done quickly, pumping as many as 50+ bags of fireproofing material per hour at impressive heights and distances.
Watch this short video and hear from Lee Campbell at Alpha Insulation on his experience with their 321 Standard, WaterMax and Alum Cart.
Hear what the industry is saying about

321E
Hear from contractors and partners on their results using 321E.
Recommended Products
Complete your equipment package with reliable water measurements, alum injection and the right mixer for your project requirements.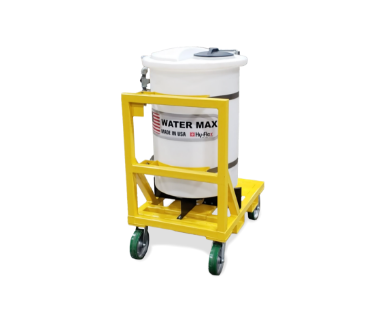 WaterMax
Perfect for:
Improving product performance for fireproofing, stucco, and other bagged products by accurately delivering water to your specifications.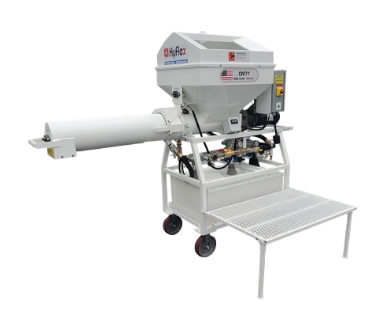 CM71
Perfect for:
L
ow to medium density cementitious fireproofing material. The CM71 produces a continuous supply of material with unmatched consistency of output day in and day out.