VersaMax
Pump and Mixer
The VersaMax fully hydraulic, diesel pump and mixer system easily delivers coating materials for medium to high output projects for fireproofing, stucco, infrastructure repair and other industrial applications.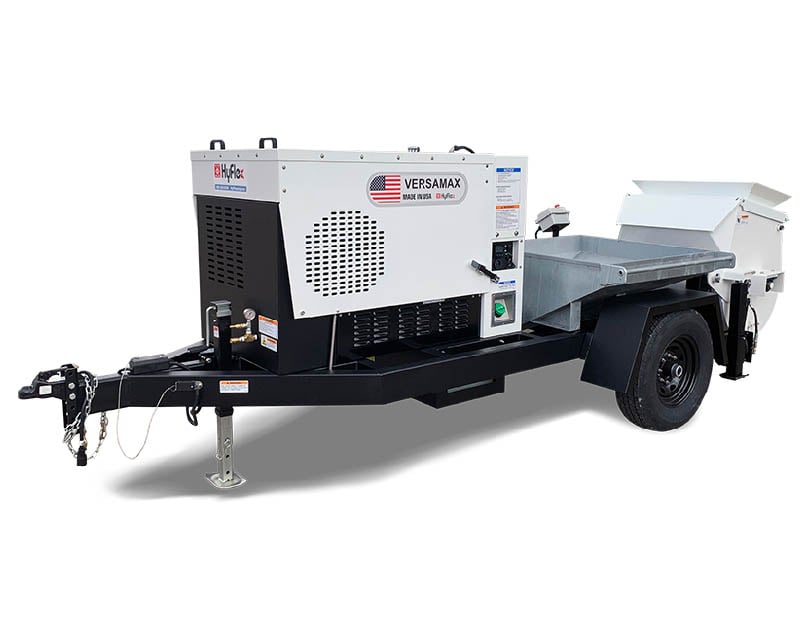 Overview

Specifications

Benefits

Applications
VersaMax is a diesel-powered fully hydraulic pump and mixer for fireproofing, stucco, infrastructure repair, and other coatings applications.
• Diesel-powered, hydraulic pump and mixer system
• Self-contained on one unit for portability and jobsite mobilization
• Pumps from one centralized location
• Designed for medium to high output projects
• Easily delivers fireproofing more than 1000 feet horizontally and 50 stories vertically
• Delivers pump-grade prebagged stucco and other coating materials to meet and exceed project expectations
• Reliability and hydraulic power of our 321E piston pump
• Up to 1500 psi of pumping pressure to effectively replace mechanical piston pumps common in the industry.
• Tier 4 Final Yanmar diesel engine
VersaMax is the industry's exclusive fully-hydraulic piston pump in this class, eliminating gearboxes, clutches, mechanical drive systems.


Maintenance
Maintenance has been made easier with the new valve body and manifold designs. All comes apart in minutes with our unique clamping system so that it can be drained, cleared, or cups changed very quickly with less skill to do the work.
| | |
| --- | --- |
| Power | Yanmar Tier 4 Final 3-cylinder direct injection diesel engine, 24.7 hp @ 2200 rpm as rated by the manufacturer |
| Pump Cylinders | Fully hydraulic 3" dual piston pump |
| Pump Hopper Capacity | 22 gallon/minute or 50 bags/hour fireproofing output |
| Mixer Tub Height | 50" |
| Mixer Capacity | 12 cu ft |
| Mixer Hood | Dust suppression hood standard; Dust collecting hood optional |
| Mixer Features | 4 blades/rubber wipers, forward/reverse directions, cleanout on side of tub |
| Pressure Output | 1,500 psi recommended max working/adjustable pressure control |
| Dry Vehicle Weight | 3600 lbs |
| Drive | Dual cylinder hydraulic dump |
| Pump Outlet | 2" HD coupling pump outlet standard |
| Air Compressor | Approximately 14 cfm @ 40 psi |
| Trailer Features | 17 ft long and 84 in wide, Torsion axle suspension, 5000 lb axle 8 lug hub, 2-5/16" ball coupler standard, 2" ball or pintle available on request |
Pumps materials more than 1000 feet horizontally and 50 stories vertically.
Towable - has torsion axles for smooth towing.
Lightweight and easily towed with 1/2 ton pickup truck.
Hydraulic-powered 12 cu ft mixer with forward and reverse controls.
Hydraulic dumping mixer allows the operator to quickly and efficiently dump loads of material all day long without tiring or getting injured.
Twin dump cylinders to keep the tub balanced and ensure a long life.
Unique dust cover that's easily is lifted for occasional spray off of buildup and stays safely in place for dumping.
Water bar available for dispensing water into the tub while helping suppress the dust at the same time.
Hydraulic pump includes two 20" long x 3" material cylinders for smooth delivery of the material.
Fully variable hydraulic speed control allows full pumping speed range.
Low/Medium/High-Density Fireproofing

Commercial Fireproofing
Industrial Fireproofing

Plaster/Stucco Spraying
Infrastructure Repair

Manhole Restoration
Concrete Repair Mortar
Bridge Repair
Cellular Concrete
Injection Work
Slab Jacking
VersaMax in Action
Watch this diesel-powered fully hydraulic piston pump and mixer getting the job done. VersaMax's modern, self-contained, portable design replaces traditional equipment to improve results and ROI on every project.
VersaMax
Warehouse Project
VersaMax Fireproofing Building Rehab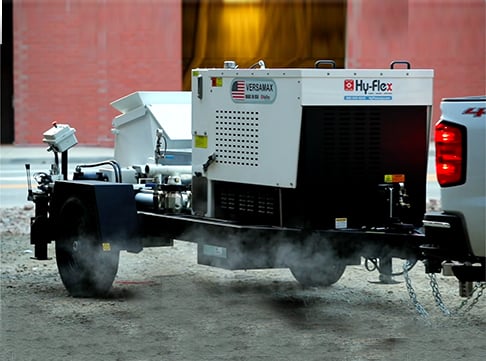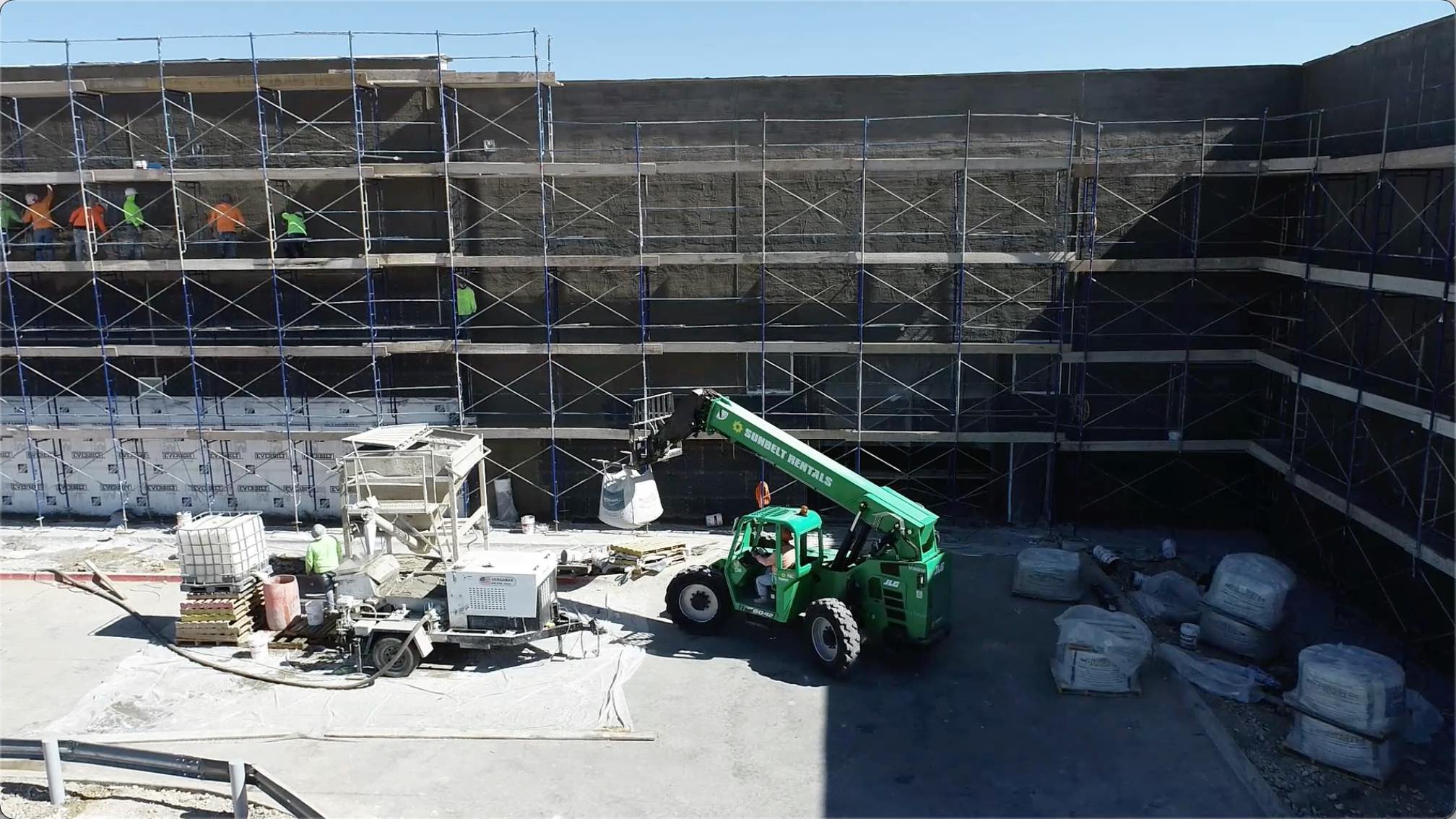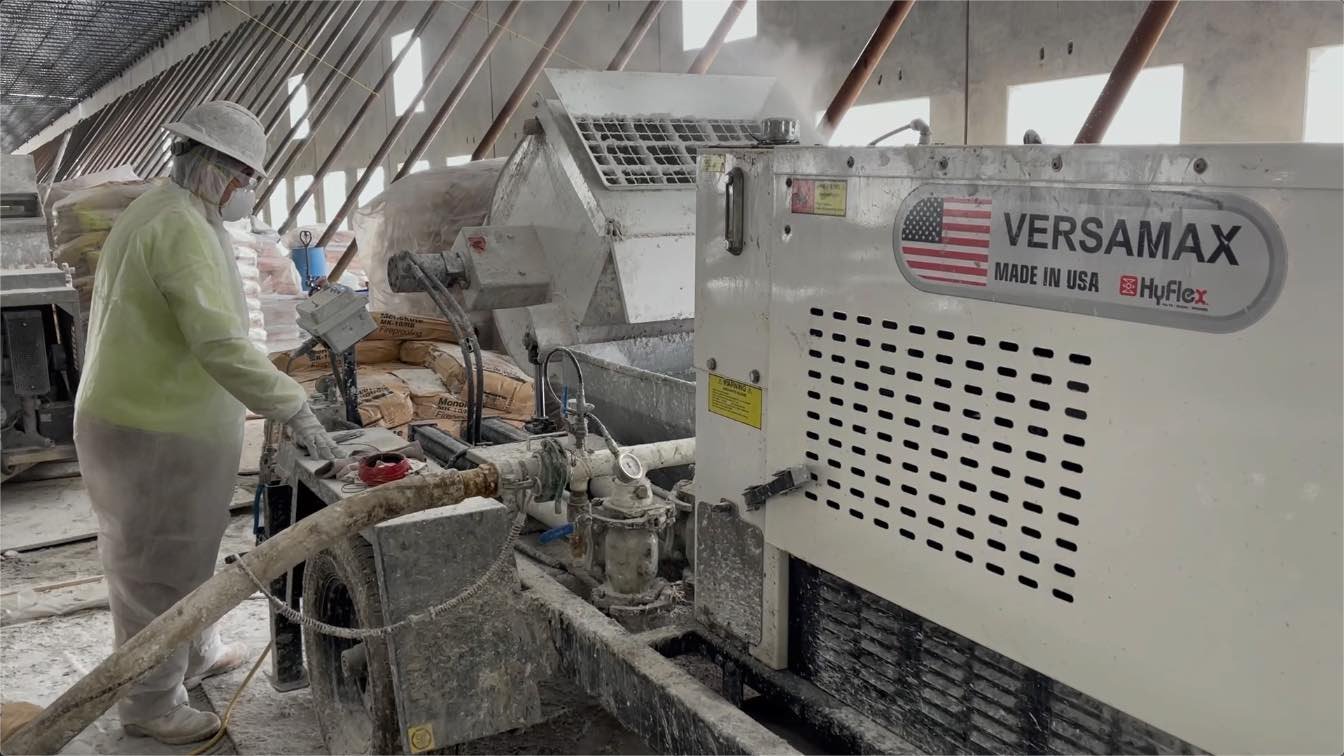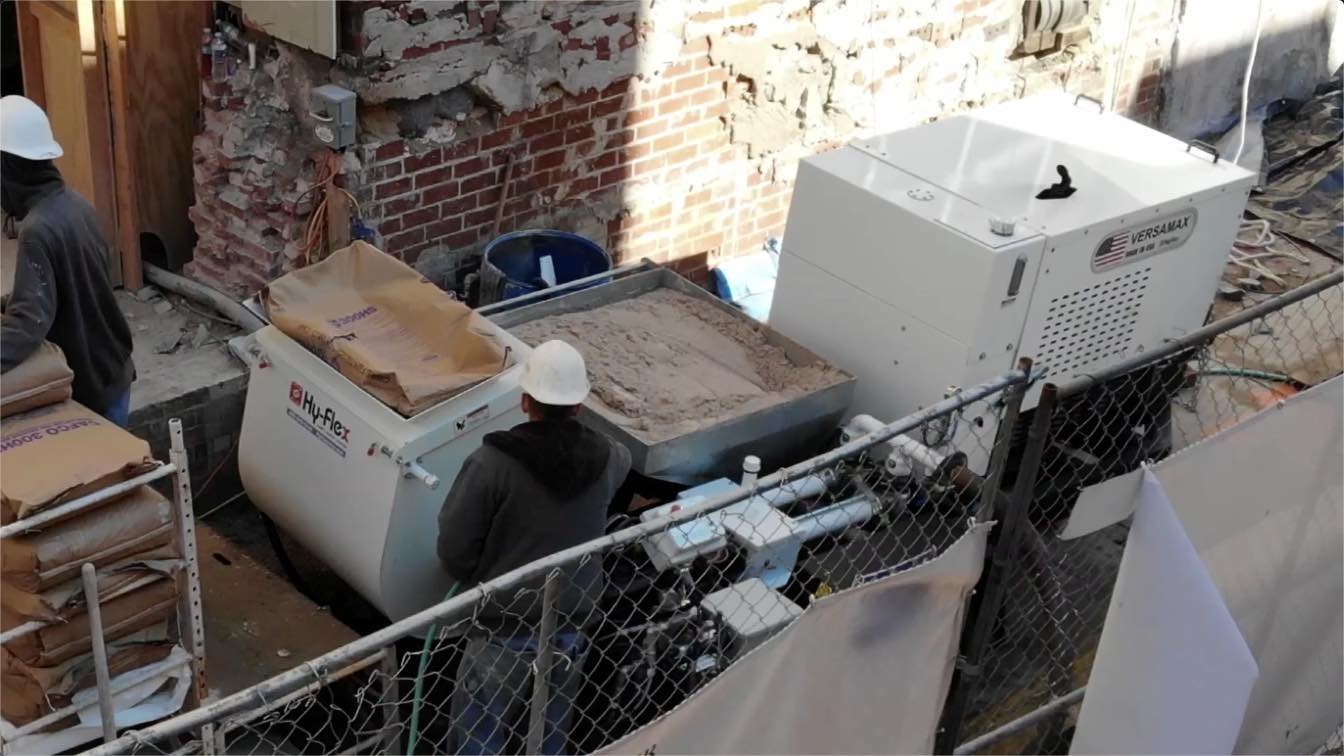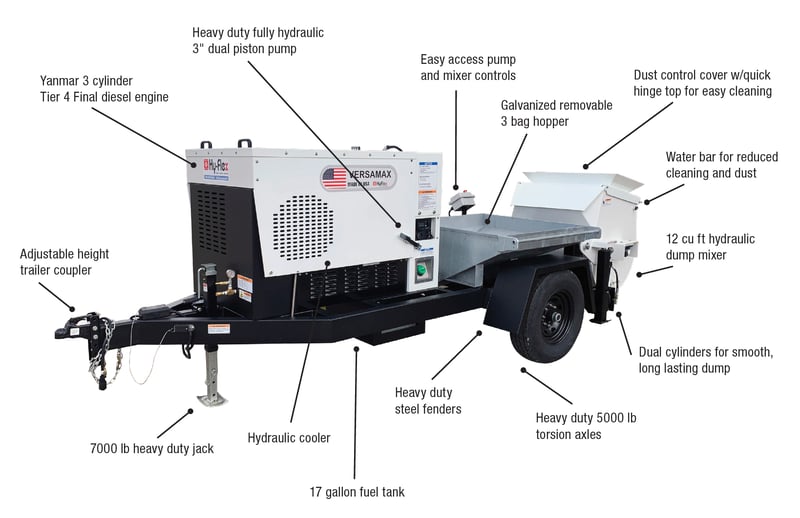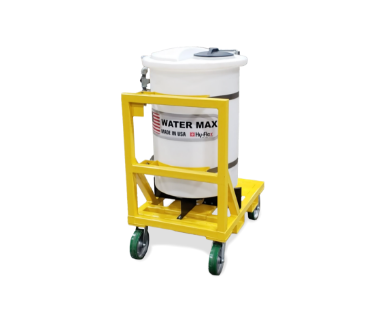 WaterMax
Perfect for:
Improving product performance for fireproofing, stucco, and other bagged products by accurately delivering water to your specifications.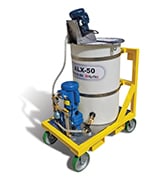 Alum Cart
Perfect for: Improving yield for fireproofing materials, reducing labor time to increase ROI.