MobileMax
Pump & Mixer
A customizable, diesel-powered fully hydraulic pump and mixer complete solution designed on a single platform for quick mobilization from jobsite to jobsite.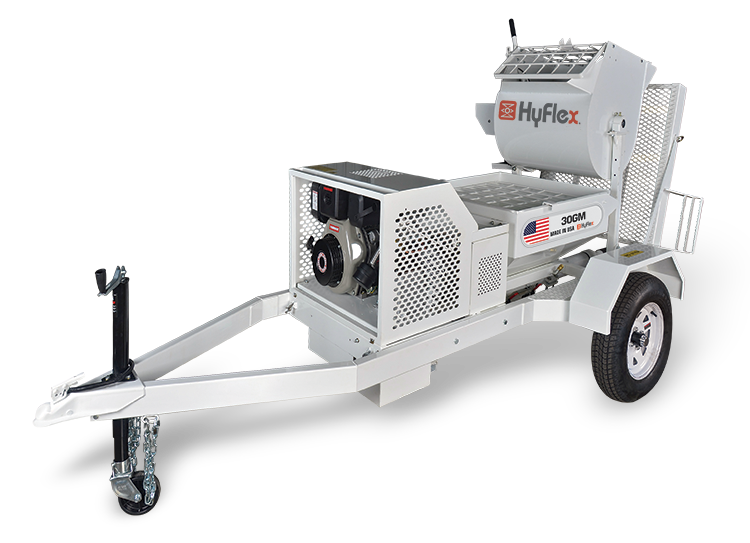 Overview

Specifications

Benefits

Applications
MobileMax is a customizable, diesel-powered fully hydraulic pump and mixer complete solution designed on a single platform for quick mobilization from jobsite to jobsite.
It is designed for fireproofing, infrastructure repair, plaster, stucco, and other coatings applications. The self-contained system can be pulled behind a ¾ ton truck and is constructed to transport the entire spray system, including job box, Alum cart, Water Cart, hose package, push Scaffold, and water blaster.
MobileMax delivers more than 50 bags per hour of output with up to 1500 psi of pumping pressure for medium to high output projects, easily pumping fireproofing and other coating materials more than 1000 feet horizontally and 50 stories vertically.
MobileMax is configured to customer requirements with individual components and equipment options including:
Three Yanmar power unit options depending on contractor requirements

Two air compressor options to choose from to facilitate spraying industrial fireproofing or other high air requirement coatings

Optional 10 KW generator that can be configured with 4 - 110V GFCI dual-outlet receptacles or 2 -110V GFCI dual-outlet receptacles and one 30 A twistlock receptacle

The power unit is designed so that it can be positioned as needed on a trailer, truck, or semi

The pump/mix unit can be rotated to load from a variety of locations on the vehicle.

Our standard quick mobilization package is on a 10,000 gvw utility trailer that is equipped to carry the alum injection, water system, rolling scaffold, water blaster, job box, and hose package

MobileMax can be easily towed using a 3/4-ton truck

Canopies can also be incorporated into the trailer to shelter the operator from weather conditions
Contact Your Rep for More Details and Availability
Maintenance
Maintenance has been made easier with the new valve body and manifold designs. All comes apart in minutes with our unique clamping system so that it can be drained, cleared, or cups changed very quickly with less skill to do the work.
Power
Yanmar Tier 4 Final 3 or 4 cylinder direct injection diesel engine, 30 hp or 42 hp @ 2200 rpm as rated by the manufacturer
Pump Cylinders

Fully hydraulic 3" dual piston pump

Pump Output
22 gallon/minute or 50 bags/hour fireproofing output
Pump Hopper Capacity
3 bags
Mixer Tub Height
42"
Mixer Tub

12 cu ft hydraulic dump

Mixer Hood
Quick-release dust suppression hood standard; Dust collecting hood optional
Mixer Features
4 blades/rubber wipers, forward/reverse directions, cleanout on side of tub
Pressure Output
1,500 psi recommended max working/adjustable pressure control
Dry Vehicle Weight
9800 lbs as configured with 20 ft utility trailer, scaffold, alum cart, toolbox, and WaterMax
Mixer Drive
Hydraulic direct drive forward reverse
Pump Outlet
2" HD coupling pump outlet standard
Air Compressor
Standard 14 cfm @ 40 psi or optional 22 cfm @ 100 psi
Generator
10 kw standard generator optional
Pressure Washer
110 v and 230 v options available
Mixer Platform
60 in long x 102 in wide spring assist with adjustable leveling legs optional
Job Box
Rollaround Spray Scaffold Storage
Alum Cart
See

Alum Cart product page

for information
WaterMax
See

WaterMax product page

for information
Trailer Features
Recommended 22 ft long and 102 in wide 12,000 GVW utility trailer. Consult your sales rep for available configurations.
Fuel Capacity
30 gal tank
Hydraulic Drive
Pressure compensated hydraulic pump drive with secondary circuit gear pump mixer drive with high-efficiency hydraulic cooler
✝ 1 bag = 3.0 cu ft yield
* This is maximum aggregate size recommended for pump. Mix design will determine how well product will pump.
** Pumping distance and output may be increased or decreased significantly depending on mix design, but we believe these to be very achievable in most instances.
Copyright 2021 HyFlex Corporation. All information contained within this document is based on the latest information available at the time of publication.
HyFlex reserves the right to make changes at any time without notice.
Optimized for jobsite mobilization.
Work platform keeps the operator on the same work surface for increased efficiency.
Pumps materials more than 1000 feet horizontally and 50 stories vertically.
Easily towed with 3/4 ton pickup truck.
Hydraulic-powered 12 cu ft mixer with forward and reverse controls.
Hydraulic dumping mixer allows the operator to quickly and efficiently dump loads of material all day long without tiring or getting injured.
Twin dump cylinders to keep the tub balanced and ensure a long life.
Unique dust cover that's easily lifted for occasional spray off of buildup and stays safely in place for dumping.
Water bar available for dispensing water into the tub while helping suppress the dust at the same time.
Hydraulic pump includes two 20" long x 3" material cylinders for smooth delivery of the material.
Fully variable hydraulic speed control allows full pumping speed range
Low/Medium/High-Density Fireproofing

Commercial Fireproofing
Industrial Fireproofing

Plaster/Stucco Spraying
Infrastructure Repair

Manhole Restoration
Concrete Repair Mortar
Bridge Repair
Cellular Concrete
Injection Work
Slab Jacking
Recommended Products
These products pair perfectly with the Spray Buddy for these reasons, add some SEO value here by mentioning specific equipment + uses.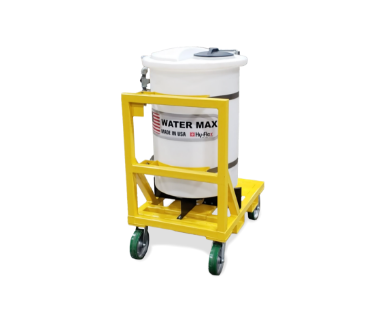 WaterMax
Perfect for:
Improving product performance for fireproofing, stucco, and other bagged products by accurately delivering water to your specifications.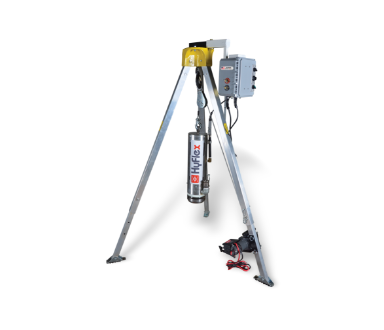 Slinger
Perfect for:
R
ehabilitating wastewater structures like manholes and septic tank rehabilitation.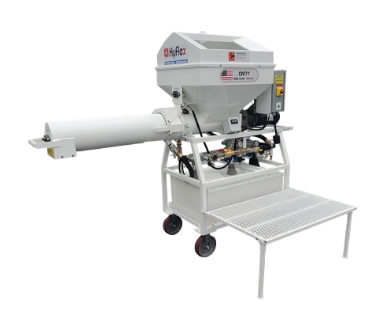 CM71
Perfect for:
L
ow to medium density cementitious fireproofing material. The CM71 produces a continuous supply of material with unmatched consistency of output day in and day out.