HyFlex CM71 Continuous Mixer and 321EHP high pressure hydraulic pumps are more than powerful productivity tools. They are also important safety promoters for construction regulations and OSHA requirements for the fireproofing industry. These factors have added key jobsite checkpoints that can't be ignored. We saw this first hand at recent site visits.
First Stop: San Francisco - The Raymond Group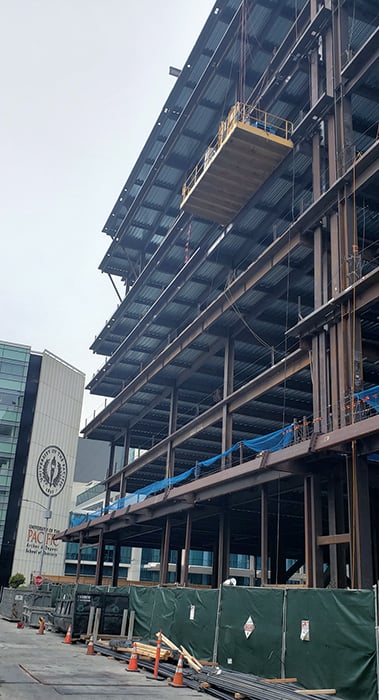 On a trip to visit customer jobsites in our western region I stopped to visit The Raymond Group in San Francisco to discuss siterequirements with Fireproofing Foreman, Paul Somers.
Project and Equipment Details
To keep up with a fast paced downtown high rise construction, The Raymond Group recently purchased a pair of 321E HP pumps and CM71 continuous mixers. They are spraying Isolatek International Cafco 300HS for this San Francisco project. Our West Coast Sales Rep and I were happy to visit the site and do project startup and training with their crew.
Several team members had used the equipment before at other sites, but this was their first time using the CM71 with its dust suppression hood.
Why Dust Suppression is Important on the Jobsite
Dust suppression has become a very popular topic for several reasons with the primary reason being silica compliance, and while gypsum-based fireproofing has only small trace amounts of silica it has brought increased awareness of the topic of dust control. We began working with our CM71 dust containment hood several years ago and it was immediately clear that dust containment on the CM71 was an effective solution to the dust problem.