Through our discussions with contractors and our manufacturing partners, we have heard time and again that the labor pool across the construction industry is undergoing many transformations. The most significant issue contractors face is lack of labor availability.
In the past, a standard practice among contractors was to send their labor home after a job was completed. This allowed the laborers to find other work between jobs and made good business sense for the contractor. It also meant that the labor pool at the union hall was always fully stocked with talent looking for work.
Now, however, this practice has fallen out of use. It is far more common for contractors to find busy work around the shop to keep labor occupied between jobs. Rather than letting labor travel between contractors, we've heard from our contractors that they would rather the expense of busy work than giving their competition the opportunity to make an offer to a qualified laborer.
Retaining an excellent team of talented laborers that you can trust is worth the expense or paying that labor to paint or service equipment as long as it keeps them on hand.
With long-term, stable employment on offer at good wages the issue now is for laborers to find a position that makes sense for them to pursue. It also means that contractors are stuck in a position of having openings to fill but no talent to pull from.

Quality workers with significant experience tend to mean that the worker is familiar with older equipment. Which is advantageous for the contractor because it means that the worker that they now want to retain long-term has the skills to service the equipment they are using in-between jobs.

And as contractors who need to fill openings struggle to find qualified labor, they are also uninterested in new equipment solutions because they have no one to run the equipment they already have.

The downside of this is that newer equipment and materials offer significant advantages over their out of date counterparts. So, while a newer piece of equipment or technology might mean an upfront investment in both training and equipment, overall the savings in actual dollars and cents makes the investment worthwhile.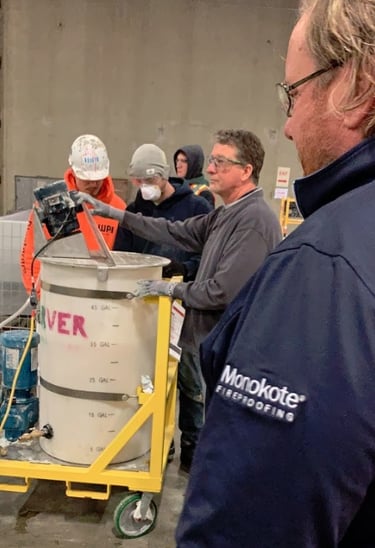 Put another way, making the investment into new technology, and the training to use it will allow contractors to be even more successful than they were in the past with a highly skilled, long-term workforce using older equipment.
Recently we worked with some of our partners on the west coast to help demonstrate how technology and training can overcome labor shortages and improve the efficiency of existing labor during a training event.
Working hands-on with both our equipment and material manufacturers we showed attendees that with the right combination of equipment, technology, service, and support they could increase safety on the job site, improve efficiency, and reduce the need for new labor.
One example of how powerful this combination can be for contractors is using the 321 7.5 hp continuous mixer to show how you can reduce your crew by one person and increase your bags sprayed per day by more than 20% over all other small electric pumps and mixers.
This training event allowed us to demonstrate and gave contractors the hands-on experience they need to implement this solution.
With a focus on green products, safety, and automation this combination of resources, technology, and new equipment can help companies overcome obstacles and find innovative, efficient solutions.