Water Batching System
Water measurement system - perfect for taking the guesswork out of mixing. This water meter delivers consistent water measurement to meet material requirements.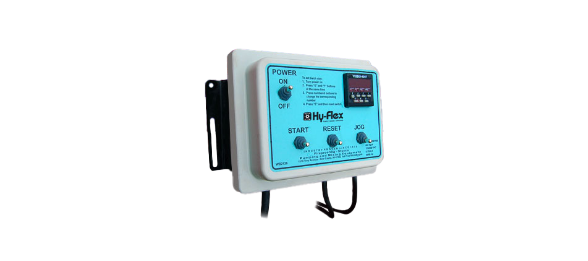 Overview

Specifications

Benefits

Applications
The HyFlex Water Batching System takes the guess work out of mixing. Mounting easily to most mortar mixers, it provides an easy, affordable way to measure water for cementitious mixing operations. The meter offers simple programming and extremely accurate dispensing of water. (The Water Batching System provides accuracy of greater than 2 percent repeatability.)
The calibration number can easily be changed to allow the display of any unit desired. This product comes programmed to display gallons, but it could easily be changed to show ounces, liters or even bags. If you have been using a less accurate way to measure your water, find out how a water batching system can improve your ROI and meet guidelines.
Allowable Inlet Pressure
100 psi
Minimum Inlet Pressure

45 psi

Power Requirement
Standard 115V, 1A
85-264 VAC input range 47-63 Hz
Optional 12VDC, 2.5A
Flow Rate

2 – 20 gallons per minute

Accuracy

+/- 5% accuracy with up to +/- .5% repeatability

Inlet Connection

3/4 in Female garden hose




Outlet Connection

3/4 in Male garden hose

Display

Red LED
Affordable way to measure water accurately
This product gives assurance that materials are mixed with the proper water content
Easy-to-understand display takes the guess work out of mixing
Faster mixing increases profit per bag
Mounts easily to most mortar mixers
Low/Medium/High-Density Fireproofing
Waterproofing
Plaster/Stucco Spraying
Injection Work
Manhole Restoration
Concrete Repair Mortar
Cellular Concrete
Bridge Repair
Self-Leveling Floor Underlayment
Slab Jacking
Cementitious Coatings Under 1/8 inch Aggregate